Man-Logic: noun \ˈ man lä-jik\

: a proper or reasonable way of thinking about or understanding something, void of irrational emotional reasoning that is typically displayed by the "weaker sex".

Example: "Despite your apparent vagina, you make decisions like a functioning adult. You have man-logic . . . are you sure you don't have a penis hiding somewhere??"
I never cease to amaze myself. As in, I don't know why I'm still amazed that people still hold on to antiquated stereotypes, fiercely ignoring the fact that we live in the "developed" world during the 21st century. Why, oh why do I still allow myself to be shocked at the narrow thinking of my peers and others? I feel that I have a realistic, possibly even verging on the cusp of pessimistic, view of the truths that exist in the world around me. Yet, I still have enough optimism in my fellow-man to become indignant when they disappoint me with their idiocy. Don't get me wrong, it would be silly to believe that being a Black woman in corporate America would be easy. Sadly, I was so focused on preparing to deal with the being Black part that I forgot that I was still in possession of a uterus. I don't know how I did that, it reminds me at least once a month. . .
I recently attended a week-long development training meeting for the top talent of my company. Upon receiving the congratulatory email the first thing I did was check names on the group email to see how many women would be in attendance. I quickly realized that out of the 9 of us attending the training I would be the lone female. On the plus side, I was guaranteed to have a room to myself… I'll take my little victories where I can get them. Outside of the spacious king sized bed the only thing I had to look forward to was the Jane Goodall-like observation of my peers. It was truly people-watching at its best. Ladies, I hate to break it to you, but if your man travels for work, he's on the prowl. The area code rule applies.
For that week I was placed in a position that I hadn't been in since high school/college (no, not that kind of position, Gutter Brain). I was able to resume my role of the 'cool girl' a.k.a 'the guys' girl' a.k.a the 'Just-One-of- the-Guys girl' a.k.a 'So-long-as-she-doesn't- actively-remind-us-she-has-boobs-we-may-look-her-in-the-face-when-we-talk-to-her-girl'. At first, my male coworkers tried to maintain some type of chivalry and decorum, but after a day and/or the first round of shots that went out the window. Eventually I was privy to the sharing of sext messages worthy of an Anthony Weiner scandal. So, in case you didn't know, when you send him a picture of your bare anything, he is going to show his friends… or his co workers…. or other guys that he just met.
***Note to self, make sure you make your bed before taking and sending sexy boudoir picture messages. *** If you're gonna have an audience you might as well be impressive, and nothing ruins a moment like your laundry piled up on the floor or your toddler hanging out in the background.
I became relatively gender neutral…except for when it came time for me to participate and present myself as a professional. It was odd; when I had beer in my hand I was as androgynous as Pat from an SNL skit. Replace the beer with a portfolio and a business suit I become an anomaly. Throw in a couple of coherent statements about gross profit growth and return on investment and I might as well have 2 vajayjays and 3 boobs…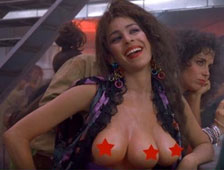 I like to think that I am amazing at my job and have great insight on my company's goals and objectives. So I was little offended by how blown away my peers, and even some of my superiors were at my level of competence. The phrase "you can really hold your own" was thrown around more than a few times. All I could think was, well duh, I'm a professional just like you. Why wouldn't I also know what the fuck I'm talking about? Since when has a vagina been a cancer that eats away at logic? That's like saying "for a human being who walks up right and has opposable thumbs, you really do a great job of not throwing your poo." Did they expect me to burst out in tears and catch the vapors any time I was asked a question? Unfortunately I left my fainting couch at home. The next meeting I'm packing my balls in my purse, and right before everything starts I'm going to place them on my table in front of me. That way there won't be any surprise as to whether or not I'm rational and logical enough to sit at the big boys table. I guess they didn't get the memo: the female reproductive system is just remarkable as our male counterparts….. Except we keep our nuts on the inside.